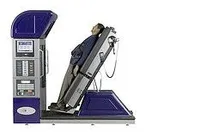 Are you tired of living with back pain or leg pain? Has it been a very long time since you felt like you had an active life? We can help you with chiropractic care for pain management, wellness programs and spinal decompression.
Spinal decompression is a non-invasive, non-surgical treatment for acute and chronic low back pain related to disc conditions. Spinal decompression works by slowly and gently stretching the spine, taking pressure off herniated and bulging discs thus reducing pressure on the spinal nerve roots.
The most common condition treated with spinal decompression therapy is a bulging disc or herniated disc. Disc herniation can occur from a single trauma like lifting a heavy object, or they can occur gradually with no apparent cause. Over time, the internal pressure of the disc increases, making it difficult for blood and nutrients to enter and nourish the disc. Think of squeezing a sponge, and then placing it under water while maintaining your grip, no water can enter the sponge, due to the pressure. If a disc cannot hydrate itself, it gets progressively weaker, allowing more of the nucleus to bulge outwards. With a disc herniation, compression of the spine during normal daily activities causes the herniation to expand, putting pressure on surrounding spinal nerve roots. Spinal Decompression treatment takes the pressure off these damaged discs so that the disc bulge or herniation will shrink back closer to its original size. This process removes pressure on the delicate nerves reducing pain and allowing them to return to normal function.
Degenerative disc disease is also a common condition treated with spinal decompression therapy. Reduction of disc height can be exacerbated by daily activities, causing the vertebral bodies to move closer together. This can cause nerve compression and other forms of common back pain. Decompression eliminates the overwhelming pressure on degenerated discs reducing or eliminating painful symptoms.
Spinal decompression is the single most exciting treatment developed in many years for pain related to disc conditions of the spine. Koelling and Turnbull Chiropractic was the first office in our area to offer true spinal decompression therapy and we are still the only office in St. Peters or St. Charles that offers treatment with the DRX9000. If you are not being treated with a DRX system then you are not receiving true spinal decompression. At Koelling and Turnbull Chiropractic we have utilized the DRX9000 spinal decompression system since 2004 in our St. Peters office. Since then our office has enjoyed a 90% success rate treating degenerated, bulging and herniated discs. If you want to avoid back surgery or painful injections then spinal decompression with the DRX9000 is an excellent option for you.
Below you can review MRI studies from one of our cases. The individual in this case was referred to us with a huge disc extrusion and was scheduled to have back surgery. After treatment with the DRX9000 his back and leg pain were completely gone. We performed a follow up MRI 3 years later which showed nearly a complete reduction of the prior extrusion. This is just one example of the outstanding results we achieve with DRX9000.